The grid is up..but here I am coming to you live from a tall building...on the Beta Grid?!
Oh yes. Free money = shopping spree sooo...I popped into a few places, picked up some real fine shit...stuff I normally would luuuurve me some on the main grid, but is dear and I have spent all my loot on rent and the daily deal of the century.
1st up:
A LBD I've had my eye on for some time..but just never picked up! It's Nylon Pinkneys Black Party Dress...full on hand painted sequins...pant layer w/ prim skirt & bow and also a pearl choker on jacket layer. Dont forget your purse ladies...just decide which one! It comes with TWO clutch handbags in Black and White. I love it! I'll deffo be pickin this up fer realz. The top even just looks great with jeans.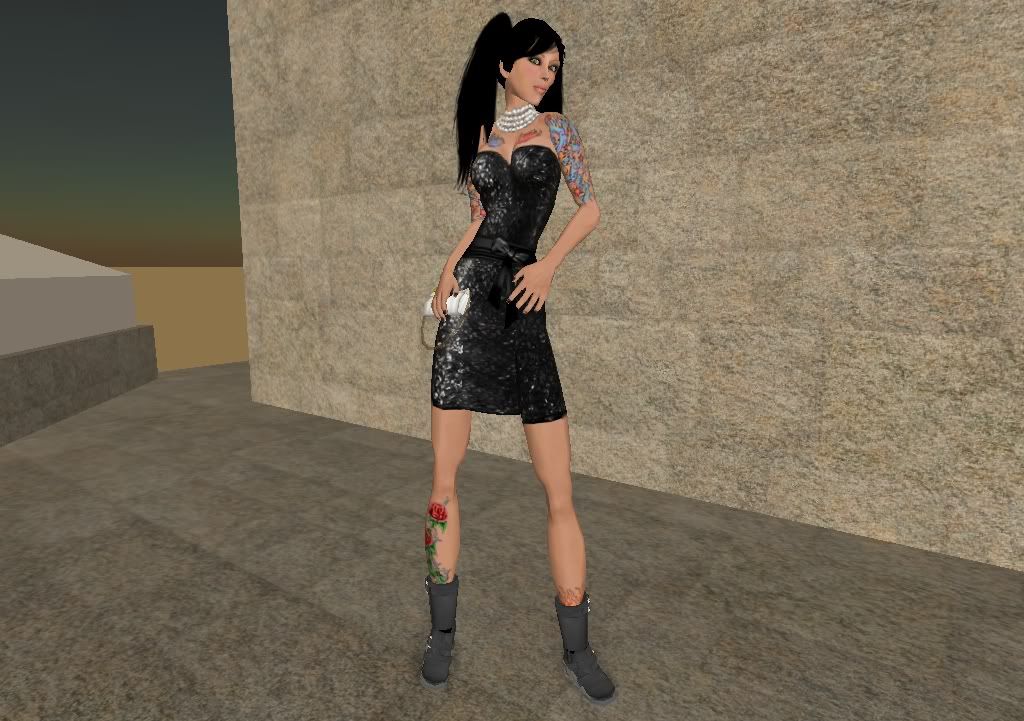 My 'do is another NO magnum opus called 'Repressed Inner Child'. Suits me sir...as I was likened to a 6 year old at home the other day after doing a ridiculous song and dance. (It's still makin me laugh! Maybe someday I'll share the words.)
On my feets are some hot little shin boots by Paper Couture..the buckled mid-calf boot in jet leather. Almost ankle boots on my big ass, but cute as, nonetheless.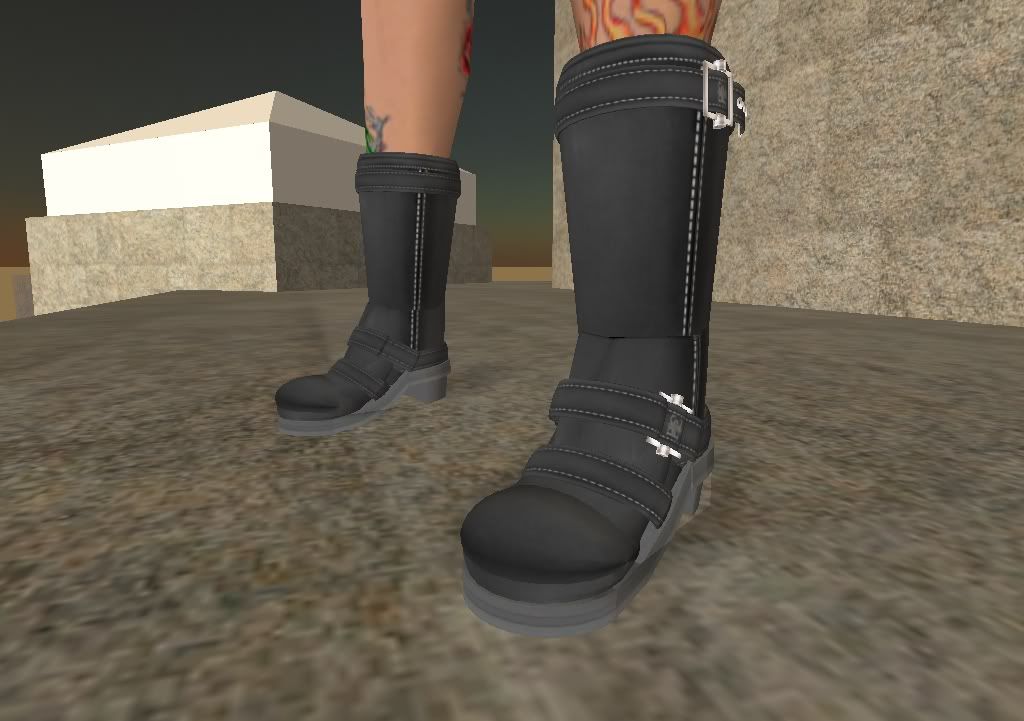 2ndly: I'm goin clashtastic!
Thank goodness we can wear our regular stuff here, I had a hard time finding any hair on the beta...On my noggin is the Alexandra III high ponytail in Honey Burnt. I've gone Blonde...!! That's slapped together with Paper Couture logo sunglasses..I LOOOOVE huge shades. On top of all that is my new Dapper Hat also found in Tableau in a Men's shop just upstreet from ;pc. Tilted cheekily, with a feather stuck in my cap, you can call me macaroni!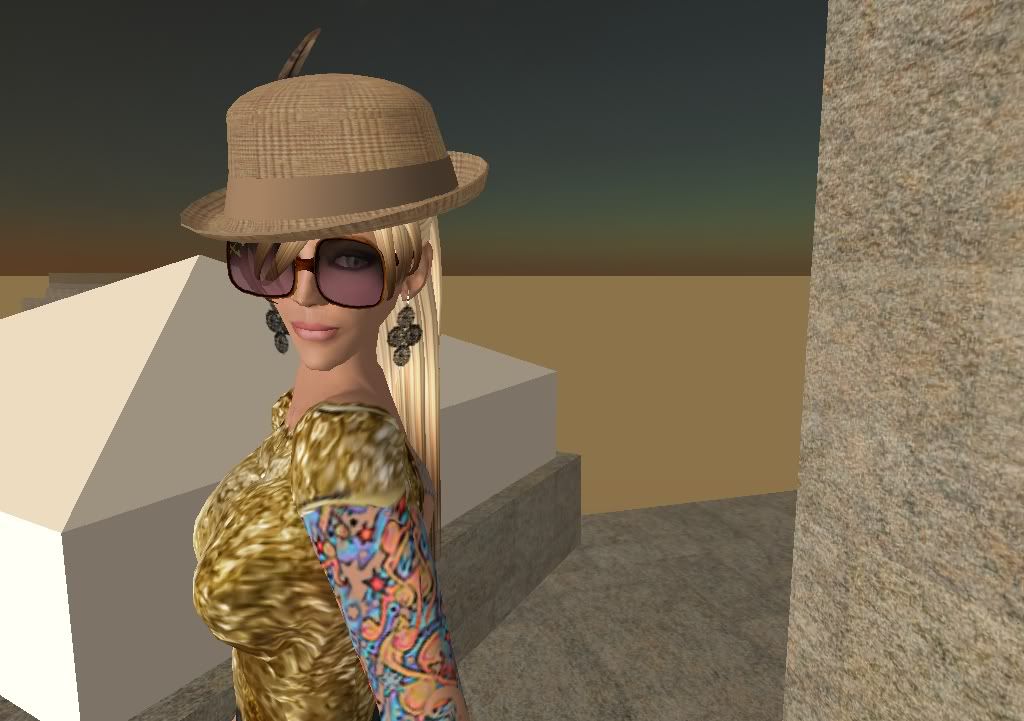 My top is actually part of another fabulous Nylon Outfitters dress..the Gold Party Dress. This comes with sameish bits as the Black Party Dress, with a different cut to the top (check out that PLUNGING back!) and cute little black flexi snowflake earrings. Woot! I never ever wear earrings due to attachments on the regular grid...but today is speshul.
My bottoms are Pixeldolls Sleek Pants in Ocean..on the underwear layer they are faboo for booties. Tuck right in for a sleek, sexy look.
On my feets are some more of those fantastic Paper Couture mid-calf boots..these are in Timber Plaid. This was THE FIRST thing i snagged when I got to Tableau v2.0 on the beta grid. Hawt!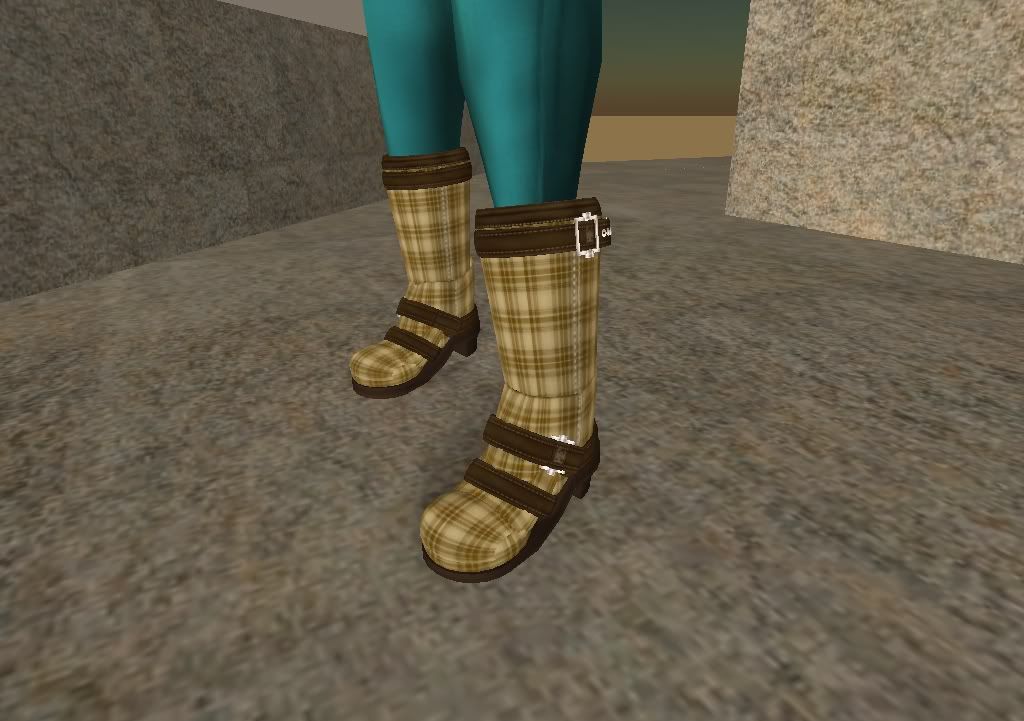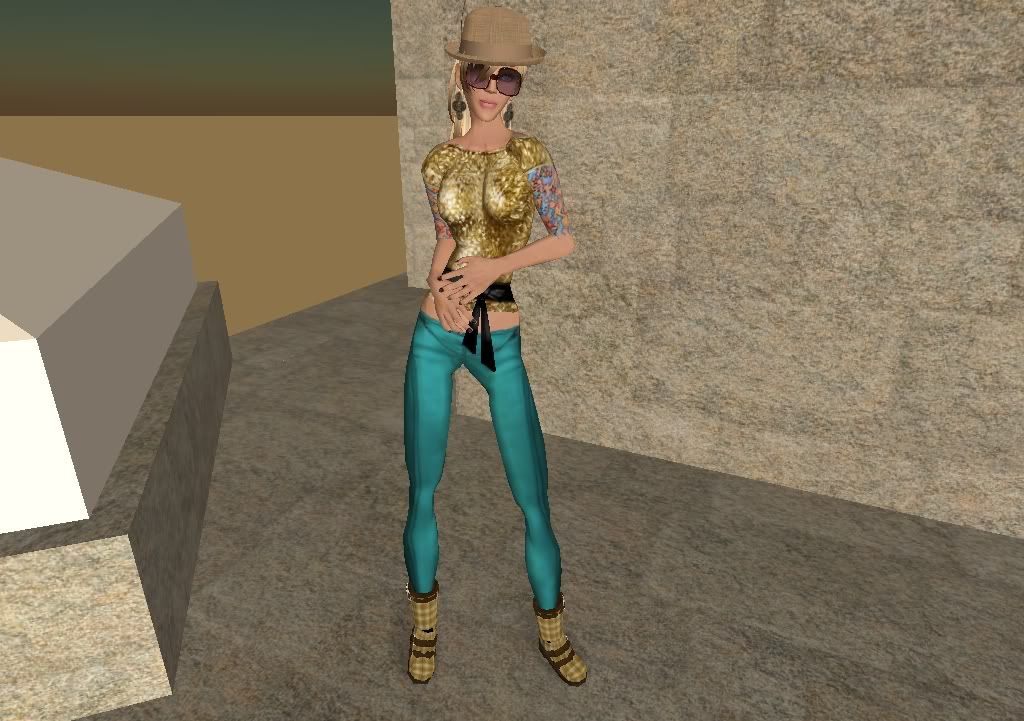 3rd up:
The Paper Couture Dahlia Pantsuit.
I tossed on artilleri's Mariya in BlueBlack and a Girl Kultur Monacle. The one lens adds an airy sophisticated flair...a bit odd but also another purchase I shall be making on the regular grid!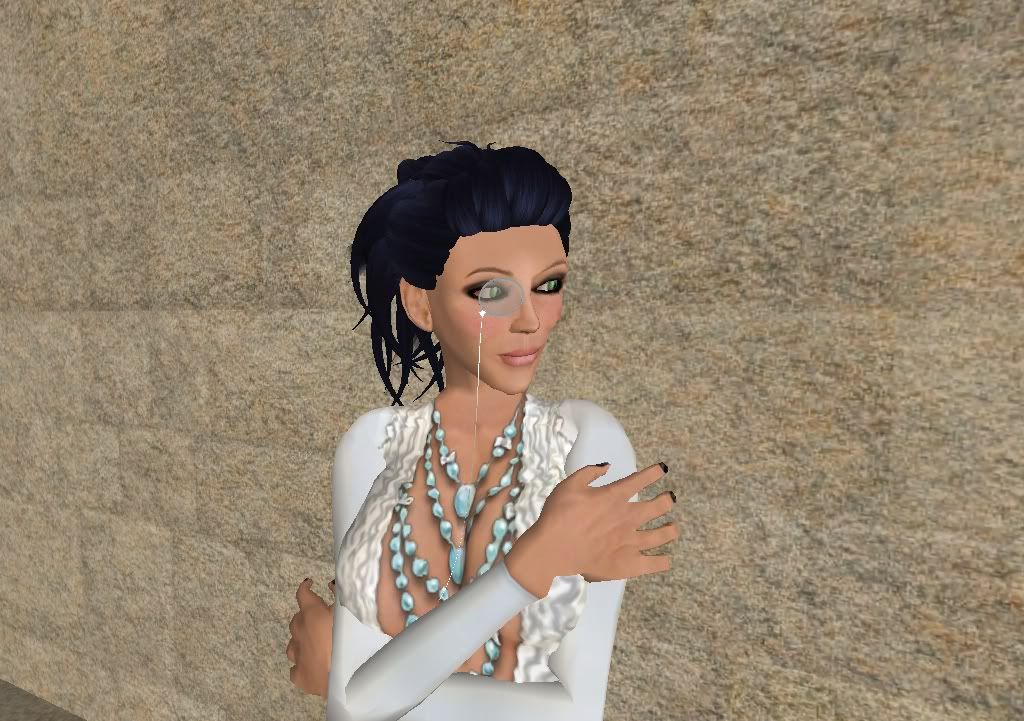 I went super simple with this outfit..as the suit says so much just by itself. it includes a shirt and no shirt version with elegant draping necklaces on underwear layer and the shirt..with the skirt layer..makes a jacket I would beat someone up to get! The combo is killer.
On my feets are the Paper Couture Allium Organic Heel in frostbite. Brr....but for something this cool...its fuckin HOT!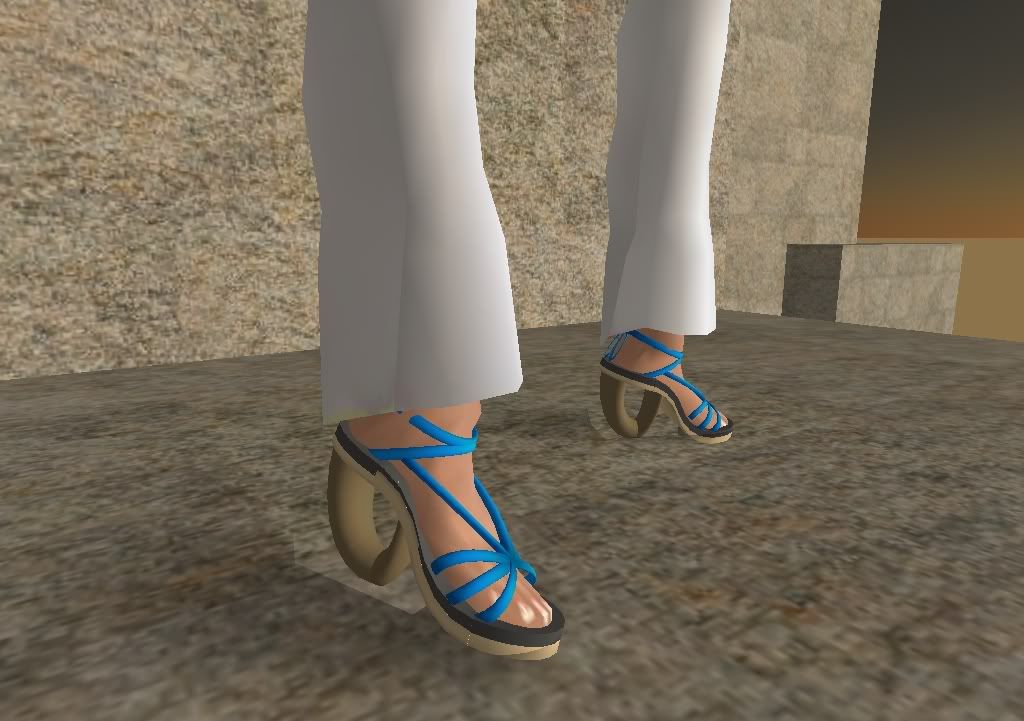 4th we have...
More Paper Couture! The Folora Gown is another handpainted masterpiece by the Lu's. One shoulder ruffle and a mermaidy style skirt totally rocked by red glitch pants and socks. A little weird for me...and I seem to poke out of the non prim skirt...which sucks cos its sooo gorgeous. I am also wearing hairapy's Drew II in black (it's a diversity retexture job i tried...and I love it...but I am totally gonna get me some Hairapy and get the real deal!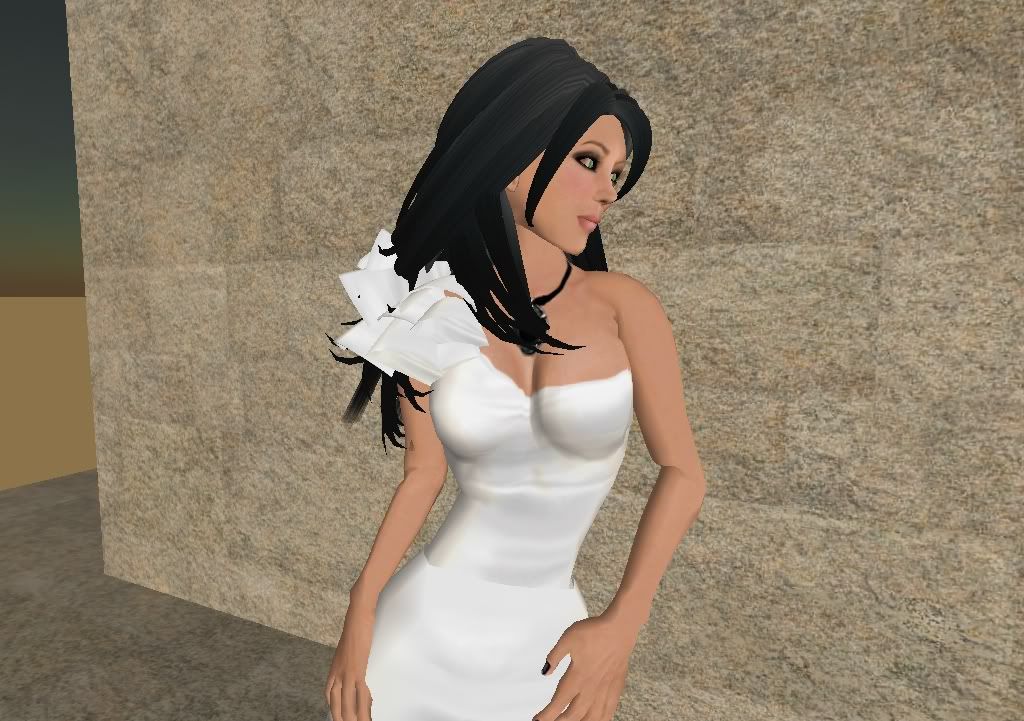 I didnt happen to buy any white or red shoes on my spree...so I chucked on the jet mid-calf boots again..which you can barely see..but they're there! Like combat boots and a wedding dress...I'm gonna have to try that!!
Lastly but not leastly...
This was a find at Chip Midnight's store...this is my first and only buy so far from his shop...as it's the first I've seen by him!
I was wary..i always am of the regular skirts. He pulled this off PERFECTLY and I am definitely definitely going to look for this in regular Second Life. I LOVE IT.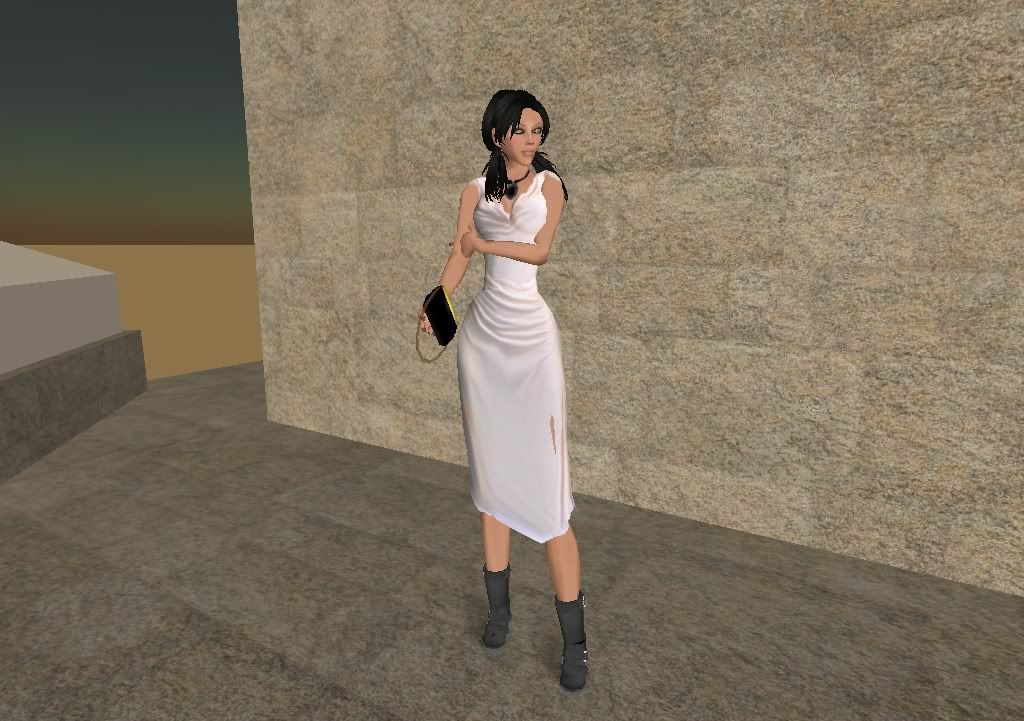 It's called the soft cowled dress...and indeed it looks like it feel ssooo good against my skin..the drapes...the colour...so soft! I paired this up with Goldie Locks 'Mary Ann' ponytails and the NO black party dress cluth. Around my neck is the Folora Gown necklace and on my feets...again cos i just cannae get enough of em...yes...jet black boots! This dress is so stunningly simple..and beautiful...yeah..its a MUST GOTTA OMG GIMME HAVE!