Goldie Locks & the Many Hairs
This is
supposed
to be on
Shopping Cart Disco
..but I am technologically retarded. So...welcome to here. I'll post this back there ASAP! I AM SO SORRY! And as we can all see I haven't quite gotten the format down here either. Blogs hate me today.
(and now back to our regularly scheduled blog post)
I like me some shopping for hairs. I think a lot of gals out there share that interest, so on that note, I'd like to introduce/reintroduce
Goldie Locks
, designed by Selena Gateaux.
If you have already discovered this shop, it may have been due to the two lucky chairs posted right by the entrance. They are updated quite often with full colour packs of hair...these are huge packs, just check out the colour range!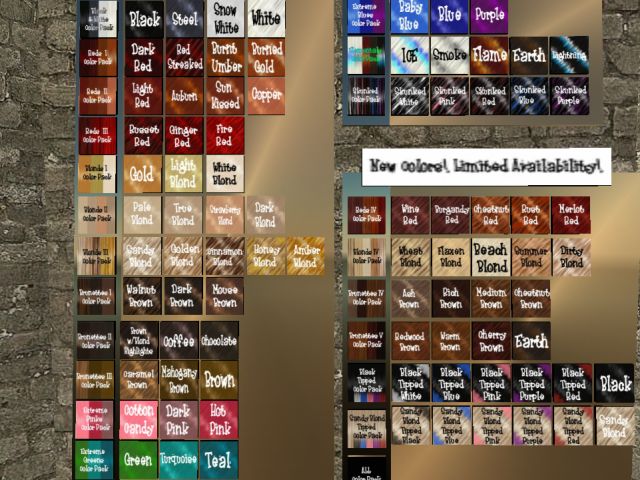 Posted by the lucky chairs are also a couple of clothing dollarbies, which are pretty good for someone who really only (as far as I know actually) designs hair. From short to super long, Selena's got it. Men's and women's styles in that multitude of colours (sorry I kinda cut off the top row) and I'm sure there's something for everyone, no matter the look.
I took a few shots of some of my faves to show off. I regularly choose the basic black colour from most shops, but I am starting to branch out because there are some fabulous hair colours out there and every designer does them just a little bit differently.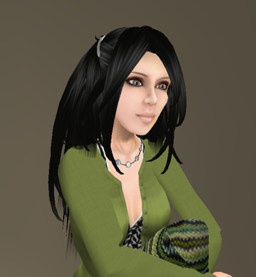 Shown here is Rhiannon which retails for $200L per colour pack and $1000L (which is a steal) for the All Colour Pack. Rhiannon is voluptuous despite being held back with barrettes. It's got a bit of flex to it which just adds to the wig, making it a lovely simple style that goes well with a lot of outfits.

Mia was reduced to TEN lindens!!! Ten! for the entire colour pack. I love the waves and the swept aside fringe, there may be too much forehead showing for some avatars, but I am happy it suits mine just right.

Mary Anne has been reduced to $50L per colour pack and $330L for the all colour pack. This is a classic wig, reminiscent of Gilligan's Island. This would rock with some cut-offs and a little gingham top.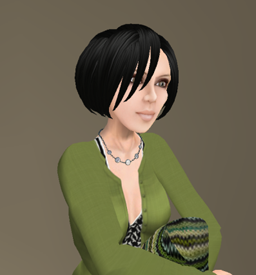 Next up we have Lil Bob which has been reduced to $50L and $330L for the all colour pack. This is very cute rounded short-do held in the back with a barrette. Nice and sleek that would do well with the cutest of cocktail dresses or just jeans and a tank.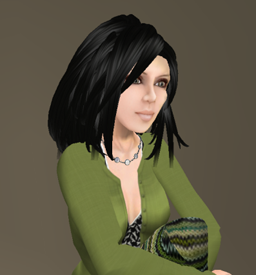 Next is Freya, another $50L reduction. I've always been a little hesitant to wear styles with a lot of volume, but this is just so soft and frames the face nicely.

Last in this row is Electra. Up for grabs at $200L per colour pack and $1000L for the fatpack, this is one of my all time favourite styles. I love the bangs over one eye and I LOVE love the back...soft and staticky (not static, it's flex), it's wild with a little bit of sane. It's another very versatile wig. (I wore it in my first post on here in fact.)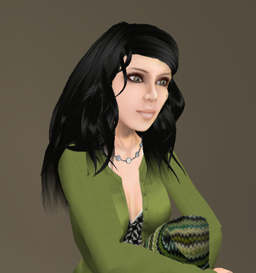 Daisy is $200L also. It's soft and very full with a bit of curl. The fringe is pulled off to the side and held with a barrette someone (who shall remain nameless :P) did not take a pic of. The curls framing the face are soft, and one of my favourite details on this hair.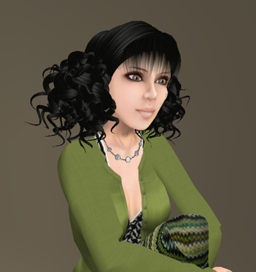 Corkscrew is a fun piggy-tail style that is shockingly on sale for $50L! The soft fringe is amazing and doesn't cover the eyes too much. The curly poofs are simply adorable, another one of my favourite styles from this store.

Last but not least is Anya, $200L per colour pack and $1000L per fatpack. I love how soft and big these pigtails are. Definitely cute, just a little wild. Another big fave of mine.
I urge all you hair fanatics to check out Goldie Locks if you haven't already...it's a goldmine of lovely stuff!
(Here's the rest of the outfit for those who may want the info!
Skin-
D-skins
Jewelery- Luna in black by
Miriel
(Jewelery Expo 2007 Treasure Hunt items)
Tank- Tread Tank in Pitch,
Pushbutton Industries
Cardigan- Boyfriend Cardigan in Olive,
Sh*t Happens
(currently unreleased)
Socks- Stripy Knit Thigh Highs in Green,
Shiny Things